Executive Chef of Hilton Garden Inn Gaborone Hotel, Shaneil Dinna has been in the country for a year. For a while now, Dinna and his team have been conceptualising an electrifying menu to be launched in April. This past Friday evening, the team showcased some of the key highlights from the menu at the One night with Hilton. The new menu ties well with Hilton's innovative sustainability initiative, where they are championing a whole new approach to food, and taken a deliberate effort to level up local ingredients and food.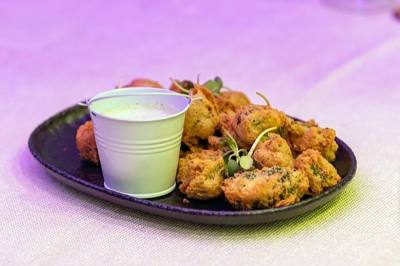 This new approach sees them showcasing an array of local food dishes on the menu. One of these dishes happens to be the Lerotse Pena Cota with Elder Flour. Immacutely conceptualised by Pastry Chef Betty, this is a winner. Presentation of this sweet dessert is intricate, and such a stunner. You are almost afraid to eat it, but tempted to just stare at it, and eat it with your eyes. For those who do not have a sweet tooth, then this is a dish for them. Light, and fluffy, with tingling aromas from the Elder Flour, this is levelling up of Lerotse. It kind of feels like one is eating an exotic dish, and not something that we grew up eating and served it one dimensional. The creative genius of Chef Betty and Dinna is levels up. Beaming and grinning, Betty is really proud of her dish. She has been working tirelessly to showcase her skills in the kitchen, while giving guests dishes that they would really love. Already, she has won over one of her fans, who on the night had, not just one, but two of the Lerotse Pena Cota's and would have had more, if it was not for a full tummy. Another favourite on the new menu happens to be the Broccoli Chilli Bites. Beautifully cooked, the Bites hits all the right notes. And will be one of the most demanded dishes on the menu. And then there is the Seswaa taco, with a spicy salsa. With this one, Dinna wanted to incorporate and just give a modern twist to Seswaa. When he first tasted Seswaa, he loved it, and was surprised how it was almost a basic dish with no modern twist. "This is one of the dishes that I didn't want to take out from the menu. My team was making these amazing tacos, and I wanted to add a modern twist to the Seswaa," he explained.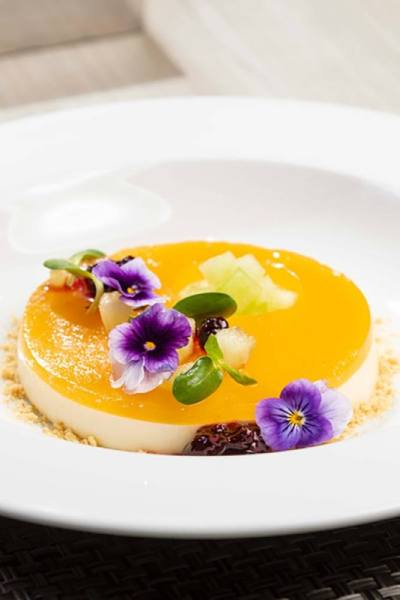 Other dishes to look forward to include Pork Neck skewers which went down very well with guests. For the skewers, he has observed that, often times there was wastage of meat, with many cuts ignored. "Everyone wants a prime cut in the industry, and there are large of carcass that is not used. I love how the head and intestines are used in Botswana," he said adding that the neck is deboned and one can have it as a snack with a glass of beer. "It has a soft excellent texture," he explains. For the menu, there is an array of options that include Pork Chops with Maungo Craft Jam. Others might also like a Beef Short rib slowly cooked for hours, that just falls off the bone. For carbs, guests will love the scrumptious Sweet potato mash. The sweet potatoes were roasted in the oven, and given a whole new twist. Creamy, the taste is just something else. Giving a revamped approach to Sweet potatoes that are normally just boiled, this approach is a welcome development. With scarcity of potatoes in Botswana, Sweet potatoes are growing in popularity, and servings of Sweet potato fries have become a hit with most people. Sharing his experience in Botswana so far, Chef Dinna explains that he brings with him an open mind, and that this is something that anyone in the Culinary Industry needs to have. He has a unique balance of what makes sense for both the hotel and guests, and this is something that will set him and his team from others in the Hospitality industry. Starting his job during the pandemic, he says, it was not a walk in the park, especially with low occupancy. This also meant that he needed to have a strong grip on costs management, while continuing to serve and give clients a top notch service. Explaining on how they are now all about using what is readily available locally, he notes that there are many ingredients that can create mouth-watering dishes. "We use what grows locally and seasonally. One of our suppliers happens to be Nase Produce, a local company that uses hydroponics to grow an array of produce," he notes adding that what Naledi Selebogo who runs the business is doing such a sterling job. He further credits the success of the kitchen to his team, that goes to extreme lengths to give clients a world class service. Prior to coming up with the new menu, he spent time with two of the team members, Malebogo and Onkabetse, who have given him a wealth of knowledge, regarding local dishes and a better understanding of the kitchen. He also notes that they have been venturing into subtle changes in the menu. Some of these changes include the Conferencing menu where they have given it a fresh, vibrant look, while maintaining some traditional local items such as Filled phaphatha to mention a few. Chef Dinna also shares how they have partnered with the Gabs Butcher who will supply them with aged meat. Aged meat or Segwapa in local lingo, is one that has been hung or placed on a rack to dry for several weeks. The meat can also be stored in a refrigerator for a period of time. Most establishments across the world, swear that aged meat has a whole new taste, as the meat has lost water, and the collagen in the meat has been broken down. One of the things that he has done since his arrival in Botswana has been to get in touch with the Chefs Association of Botswana, who have informed him that there is a skills gap in the industry; this is something that he hopes to tap into, and use his experience to upskill the next Chef who might one day be employed as Executive Chef for international brands. "Within the Hilton property, we have the passionate and talented, and with programmes such as the Hilton lobby, they get to learn and grow professionally as they can study through the HTA in South Africa," he notes.




And lastly, he sings praises about his team, whom he shares, are always ready to execute his many ideas. "We have some young chefs who are doing really well," he notes adding that with the many opportunities within the Hilton Group, they stand a better chance of getting opportunities in other Hilton properties outside the countries.